WHO ARE WE ?

LacetsFun is your french made shoelaces e-shop. We offer online original, colorful, and funky shoelaces, but also, knot-free and elastic shoelaces for women, children, men, and athletes.
Created in 2012, and with more than 35.000 orders from loyal customers, and professionals, from France, or all around the world.
•
Offices, stocks, workshop, and creation studios are in France.
•
We ship worldwide.
•
• (Micro-entreprise-Siret 809 236 771 00022-VAT not applicable)
WHAT DO WE HAVE ?
ORIGINAL, COLORFUL, AND FUNKY SHOELACES FOR WOMEN, MEN, CHILDREN & ATHLETES
•
+ than 500 shoelaces models online :
satin, glittered, waxed, floral, knot-free, round, luminous, lace, elastic, golden, silicon, glow, springs, plaid, neon,...
•
Whatever your shoes model : sneakers, boots, skaters, rangers, dress shoes, sandals, running, tennis, derbies, hiking...
•
Whatever your shoelaces lenght : 14 different lenghts/sizes are available, from 55 cm to 250 cm.
•
WHAT MORE ?
1- Your shoelaces lenght ?
2- Our different shoelaces lenghts
3- Shoelaces sold by pair
4- Our shoelaces end-tips
5- Shipping mode
6- Shipping cost
7- Gift bag / Message
8- Order tracking as a guest
9- Secured payments
10- Protecting your personal data (GDPR)
11- Contact us
12- Funny tutorials
•
1-

Your shoelaces lenght ?
You don' t know what lenght to choose ?
2-

Our different shoelaces lenghts ?
14 different shoelaces lenghts are availabe.
Click here

3-

Shoelaces sold by pair

*
Quantity 1 in the shopping cart = 1 pair of shoelaces
=

2 identical shoelaces.
(

*
except for silicon shoelaces that are sold individually)
Our end-tips are metallic to ensure durability and elegance.
We offer 4 colorways : silver, dark, gold, and bronze
We automatically put the tips that match the most the colorway of the shoelaces you purchase.
Contact us if you want a particular color of tips for your shoelaces (among the four colorways we offer).
All our France or International shipments are tracked.
Shipping cost for a tracked shipment to France is 2,50 € and 3,00 € for a tracked + prioritised order.
Free shipping for orders from 12,00 € (20,00 € for prioritised orders).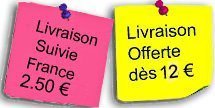 International and Europe prioritised + tracked orders are 4.90 € and are free for orders from 20.00 €.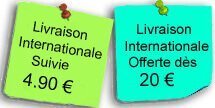 Do you want to make a gift ?
We have gift bags for you.
You can also write a personalized message that we will print on the gift bag (printed sticker).
(no need to abuse, thanks : 1- we aren't Santa and 2- people that are self-sending shoelaces with gift bags and personalized messages, because it's free, are using us)
8-

In case you are a guest :
- How to track my order ?
- How to switch my guest account into a client account ?
There is a link at the bottom of our e-mails.


10-

Protecting your personal data (GDPR) :

here
(8th point of General Sales Conditions)
11-

Contact us ?
- By e-mail : lacetsfun@gmail.com
- By phone : 06 18 87 66 65 (9.00 AM - 6.00 PM UTC +1 from monday to friday)
12 - Learning tutorials ?
- Teach your children to tie their shoes
:

here
- Teach them to tie knots that can't be untied :
here