1 - Your order has not been shipped and you send us (as soon as possible !) an e-mail to inform us of your error, and we correct your order.
(for products of the same size and same value, otherwise we will refund you)
5 - I need a special lenght for my shoelaces :
80 cm instead of 85 cm, for example ?
Tell us the lenght you need, in the message tab of your order or contact us by e-mail
and
we will be happy to make the adjustment, if your shoelaces are suitable.
6 - In case of quick command :
- How do I track my order ?
- How do I turn my guest account into a customer account ?
Please follow the link at the bottom of our e-mail :

•
7 - I wish to return my order :
Please visit our page RETURNS AND EXCHANGES
.
8 - How are my shoelaces packed ?
Before each shipment, your shoelaces are packed
in clean closed polybags so you can receive them as immaculate as possible
.
•
You want to make a gift ?
We provide you with a
gift bag
for free

.
Tell us when ordering, if you want your shoelaces packed in a gift bag and tell us the recipient's address, if you wish your shoelaces sent directly to him/her.
10 - What delivery options do we offer ?

To ensure that our deliveries are fast and safe, and to avoid losses and theft, all our shipments to France and international countries are tracked by ECOPLIS SUIVIS, LETTRES SUIVIES, and POSTEXPORT.
•
We do not send untrackable packages to avoid any risk of losses or theft.
11 - How much is the
delivery ?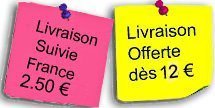 To France and Dom-Tom

, the delivery costs for tracked deliveries are

2.50

€

(

3.00€

for prioritised + tracked)
To Europe and International countries, the delivery costs are

4.90 €

( tracked + prioritised) and are free for orders above 20.00€.
12 - How do I pay for my order ?

We offer 4 secured payment options :
- CB
- Paypal

- Bank Transfer
- Check
More informations on payment options :
here
13 - When will my order be shipped ?
Your orders are manufactured on demand and shipped within 1 to 4 days, from monday to friday, following the reception of your payment, depending on the workload we currently are facing.
More informations on our delays

here.
14 - When will I receive my order ?
For France, the delivery delays are 1 to 3 business days.
For Europe and international countries, the delivery delays vary from 4 to 8 business days, depending on the selected country.
These delays are purely indicative and do not constitute deadlines.
You can easily locate your shipment on the internet, with the tracking number you received by e-mail.
To track your shipment :

here



Our customer service is open every day from Monday to Friday from 9 AM to 6 PM UTC+1
You can contact us for any requests, ideas, suggestions, by e-mail : lacetsfun@gmail.com
or by
mail at LacetsFun - 19 avenue Buffon - 77680 Roissy en Brie
- France