1- Fabric & colorways
Our end-tips are metallic, solid, durable, and colorful, on the vast majority of our products.
We've chosen to put metallic tips to ensure durability, quality, and elegance.
4 colorways : dark, bronze, gold, silver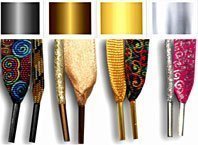 We automatically put the tips that match the most your shoelaces.
If not, we use the standard colorway (silver).
Don't hesitate to contact us if you want a precise colorway among the 4 available.
2- Size & diameter
Their lenght is 15 mm.
Their diameter once put, is 2 to 3 mm, depending on the width of the shoelace, and they match standard eyelets (approximatively 4 mm).
Be careful with the diameter of your shoe eyelets, because the metallic tips might be too wild for your slick dress shoes that might, instead, need waxed shoelaces with transparent tips
3- Transparent tips
We use transparent tips for our thin waxed shoelaces, and elastic stopper-shoelaces
UA-38170897-1
UA-38170897-2