No more ugly eyeglass cords !
Elegant and feminine satin cord, with hangs, to stop losing endlessly your favorite pairs of glasses.
NECKLACE 60 cm
: glasses above the chest
PENDANT 80 cm : glasses under the chest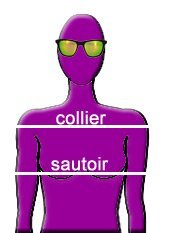 Fabric : double face satin, widght 0.9 cm
Hangs : silver metal & translucid rubber
Washable up to 40° by washing machine or hands.
Packed in clear closed polybag.