Fun and practical elastic silicone shoelace : no more tying knots !
Color : black
Clip : white
so that everyone can choose only the number of laces needed
1 lace to use for each pair of eyelets.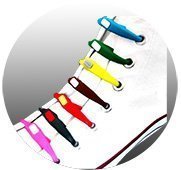 Over 25 colorways to mix on your shoes to make them fun and colorful : red, black, grey, blue, pink, orange, yellow, ... : plain
or color-mixed,

fluorescent, or phosphorescent (glow in the dark.

*)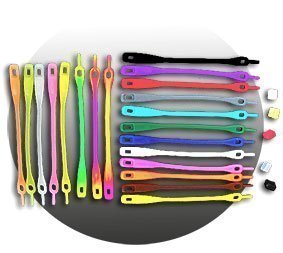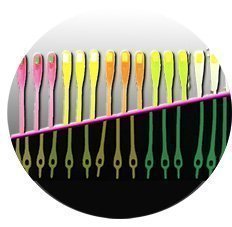 Size : 12 cm unstretched
= about 20 cm stretched to fit the width of your shoes.
4 cm once set and clipped.
Suitable for narrower shoes and feet.
(The other version of elastic silicone shoelaces we have is 6cm wide once set, and so is more convenient for larger shoes)
Material : elastic silicone
Suitable for all types of shoes
1 - Insert the lace in the two eyelets fronting each other.
2 - Clip the ends together on the front.
3 - Repeat the process for each pair of eyelets.
4 - Put on your shoes : the laces will stretch out, and then lock into position when the foot is inserted.
Once it's set, no need to undo, and redo the process endlessly
Packed in clear closed polybag with instructions manual
* Phosphorescent version : Expose your lace in the light for 2 to 3 hours to absorb it, then it will glow in the dark !